---
News & Events
---
2006 Press Releases
Eidogen-Sertanty announces issuance of U.S. patent for alignment technology
San Diego, CA (February 3, 2006) - Eidogen-Sertanty has announced that it has been issued a patent from the United States Patent and Trademark Office (USPTO) relating to its methods and systems for quickly and accurately determining the statistical significance of sequence alignments. U.S. Patent number 6,988,039 - "Method for Determining Sequence Alignment Significance" - covers alignment algorithms and methodologies for rapid remote homology detection, which are utilized in Eidogen-Sertanty's STRUCTFAST comparative modeling technology.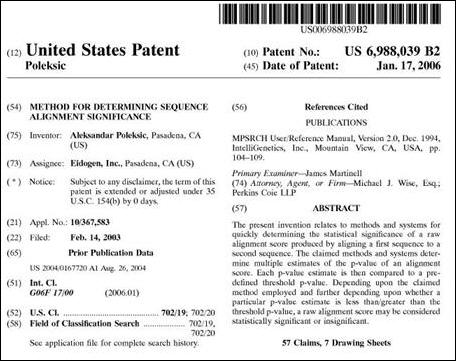 For more information, please contact:
Steve Muskal
760-651-2885
pr@eidogen-sertanty.com
About Eidogen-Sertanty, Inc.
Eidogen-Sertanty is a privately held company that is dedicated to helping scientists discover new medicines with innovative software technology and knowledgebases. To find out more about Eidogen-Sertanty please visit www.eidogen-sertanty.com.