---
News & Events
---
2006 Press Releases
EVE Comparative Visualizer Version 4.0 Released
San Diego, CA (April 10, 2006) - Eidogen-Sertanty has announced a new release of the EVE™ Comparative Visualizer software. EVE version 4.0 contains several significant feature enhancements including:
Import proprietary protein structures directly into an EVE Project file

Automatically annotates ligand-binding sites on imported co-crystal structures
Automatically computes structure and site alignments to all other proteins in the EVE Project
Coupled with EVE's SDF Import functionality, EVE now enables full proprietary structure and proprietary ligand binding mode analysis workflows, while also allowing you to compare proprietary structures, sites, and ligands, with public and modelled data exported from the TIP knowledgebase.

Customize EVE Menus and Toolbar buttons

Combine EVE commands to create your own buttons that easily execute common tasks.
WebHelp for commands is available from the TIP Support site

Save the state of EVE Project Files

Preserves imported structures and sites, imported ligands, current masters, SLiC weightings, sorting modes, and customized menus
Facilitates easier transfer of EVE Project data between scientists, allowing only the relevant data to be shown for a particular project
About EVE
The Eidogen Visualization Environment (EVE) is an integrated environment for the comparative analysis of biological and chemical structures, providing the client-side interface for visualization of structural data exported from Eidogen-Sertanty's Target Informatics Platform (TIP™) and allowing users to interrogate it with their own small molecule data. Key Features of EVE include:
Easy-to-use interface, coupled with project manipulation and customization capabilities fosters efficient communication and sharing of data among project team members
Rapidly perform side-by-side comparisons and overlays of whole protein structures or individual binding sites using pre-computed alignments
Integrated Chemogenomic Analysis Tools:

Site-Ligand Contact (SLiC™) analysis for comparison of ligand binding modes and high-throughput analysis of binding poses from docking analyses
LigandCross™ for creation of novel ligand scaffolds from bound ligands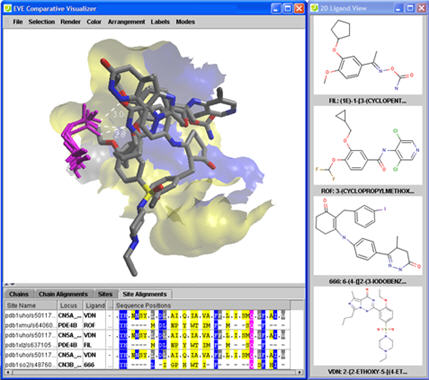 For more information, please contact:
Steve Muskal
760-651-2885
pr@eidogen-sertanty.com
About Eidogen-Sertanty, Inc.
Eidogen-Sertanty is a privately held company that is dedicated to helping scientists discover new medicines with innovative software technology and knowledgebases. To find out more about Eidogen-Sertanty please visit www.eidogen-sertanty.com.