---
News & Events
---
2011 Press Releases
Eidogen-Sertanty Collaborates on Educational Apps
San Diego, CA (April 29, 2011) - Eidogen-Sertanty, Inc. and Molecular Materials Informatics have released two new, jointly developed mobile applications focusing on the educational market: Reaction101 and Yield101. These companion mobile apps have been designed and developed for chemistry students, from late high school to undergraduate through graduate school, but also offer significant utility to industrial chemists and chemical engineers.
Reaction101 facilitates rapid reaction entry using finger-based gestures, template-based drawing and through rapid component lookup(s) from Mobile Reagents using name, formula, and sub/similarity-structure searches. Users can save reactions in their personal cloud-storage collection and send emails containing reaction schemes enclosing a variety of data formats. They may also download examples from a growing public collection of hundreds of common reactions.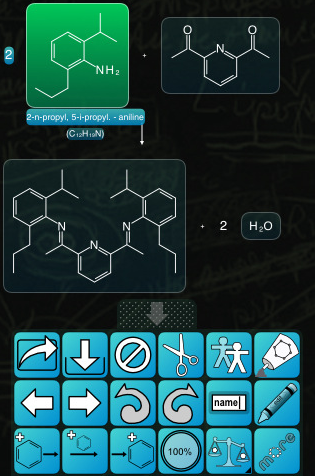 Yield101 focuses on calculations associated with starting materials and expected products - e.g. "Calculating how much of reactant B is needed given a certain amount of reactant A, and what yield is represented by the mass of final product C." As an added bonus, Yield101 will automatically check if any reactant or product is commercially available in the Mobile Reagents repository. Reactions that are entered within Reaction101 can be downloaded directly. Additional information entered and calculated can be stored in a user's personal cloud-storage collection, shared via URL, emailed, converted to a PDF file, and printed for lab notebooks.

Please see Reaction101 and Yield101 in the app store.
For more information, please contact:
Steve Muskal
760-651-2885
pr@eidogen-sertanty.com
About Eidogen-Sertanty, Inc.
Eidogen-Sertanty is a privately held company that is dedicated to helping scientists discover new medicines with innovative software technology and knowledgebases. To find out more about Eidogen-Sertanty please visit www.eidogen-sertanty.com.
About Molecular Materials Informatics
Molecular Materials Informatics provides cheminformatics software for mobile computing environments. The flagship product is the Mobile Molecular DataSheet (MMDS), which combines a unique and innovative chemical diagram sketcher with informatics features for organizing molecular datasheets, accessing chemically aware webservices, and sharing data using network resource. To find out more about Molecular Materials Informatics, please visit http://molmatinf.com/company.html.