---
News & Events
---
2012 Press Releases
Eidogen-Sertanty Partners with ChemAxon in iKinasePro Universal
San Diego, CA (June 12, 2012) - Eidogen-Sertanty, Inc., a San Diego-based computational drug discovery solutions provider, announced today a new release of iKinasePro Universal, an iPhone/iPad app that provides access into the popular Kinase Knowledgebase (KKB), which focuses on kinase targets of significant clinical interest and those frequently queried by a worldwide user-base of over 10,000 researchers.
With iKinasePro Universal, users can now search the most current KKB content on any iOS enabled device. With simple registration, users can also access hot-target and hot-molecule query reports that summarize worldwide interest.
iKinasePro Universal's users have access to over 600,000 structure activity datapoints through target name, molecule name, CAS number, and touch-drawn chemical structure. The structure search capability is powered by ChemAxon's JChem Webservices Server, which is hosted in an Amazon (AWS) cloud instance. Together, these technologies scale extremely well as the worldwide user-base continues to grow.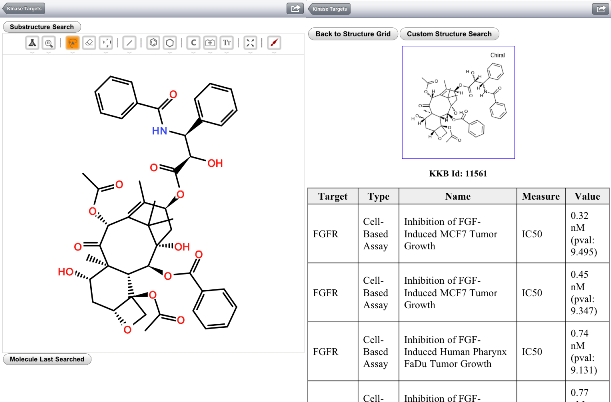 iKinasePro Universal is among the suite of Eidogen-Sertanty's iPhone and iPad applications which include iProtein, iKinase Universal, iKinasePro Universal, iOncology, Rxn101, Yield101, SPRESImobile, and alternative medicine related apps iYoga108 and iYoga108 for the iPhone.
For more information, including screenshots, please see iKinasePro Universal in the app store.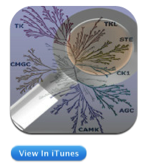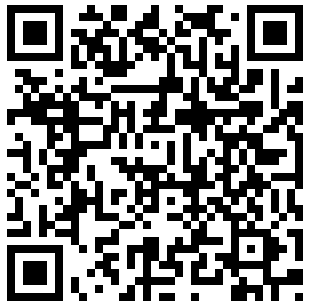 For more information, please contact:
Steve Muskal
760-651-2885
pr@eidogen-sertanty.com
About Eidogen-Sertanty, Inc.
Eidogen-Sertanty is a privately held company that is dedicated to helping scientists discover new medicines with innovative software technology and knowledgebases. To find out more about Eidogen-Sertanty please visit www.eidogen-sertanty.com.
About ChemAxon
ChemAxon is a leader in providing cheminformatics software development platforms and desktop applications for the biotechnology, pharmaceutical and agrochemical industries. With core capabilities for structure visualization, search and management, property prediction, virtual synthesis, screening and drug design, ChemAxon focuses upon active interaction with users and software portability to create powerful, cost effective cross platform solutions and programming interfaces to power modern cheminformatics and chemical communication. The company is privately owned with European headquarters in Budapest and sales and support offices in Europe, Japan and North America. To find out more about ChemAxon please visit http://www.chemaxon.com.