---
News & Events
---
2009 Press Releases
Eidogen-Sertanty to Partner with Accelrys on Kinase Database Offering
San Diego, CA (July 9, 2009) - Eidogen-Sertanty, Inc., a San Diego-based computational drug discovery solutions provider, today announced the expansion of its partnership with Accelrys, Inc. (NASDAQ: ACCL) to enhance the Kinase Knowledgebase through advanced visualization and computational tools.
As an ISV partner to Accelrys supporting its Pipeline Pilot™ and Discovery Studio® platforms, Eidogen-Sertanty will now offer its small molecule knowledgebase the Kinase Knowledgebase (KKB) through the Accelrys Kinome Viewer.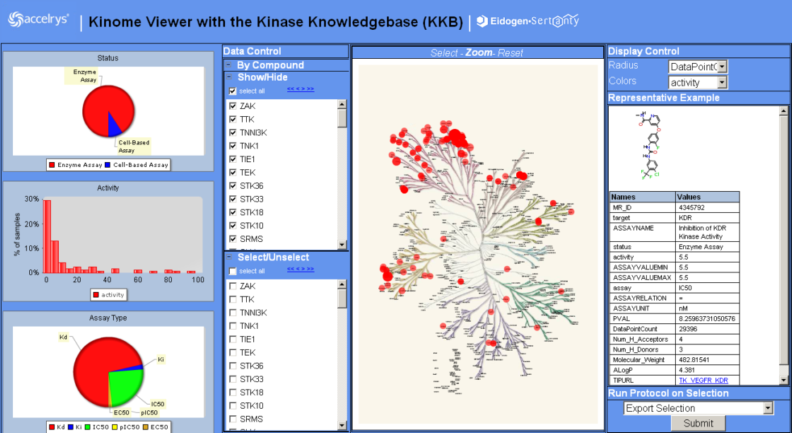 The Accelrys Kinome Viewer is a solution designed to facilitate small molecule drug discovery for kinase targets. Built upon Pipeline Pilot, the premier platform for the integration, analysis, and reporting of scientific data, the Kinome viewer enables a researcher to associate biological, chemical, and computational information on a single map. Activity and selectivity profiles of the compounds can be readily automated and visualized with information on target series, ligand binding data, and compound series - all within one customizable interface.
The Kinase Knowledgebase is Eidogen-Sertanty's database of structure-activity relationship (SAR) and chemical synthesis data focused on protein kinases. The KKB is released quarterly and currently contains over 402,000 data points curated from over 5,600 peer-reviewed journal articles and patents.
Offered on a variety of platforms, including Accelrys Pipeline Pilot, Daylight's Daycart, Symyx's-ISIS, and in ASCII formats, by extending access through the Kinome Viewer, the Kinase Knowledgebase can be mined more rapidly by larger numbers of researchers.
Eidogen-Sertanty contact:
Steve Muskal
760-651-2885
pr@eidogen-sertanty.com
Accelrys Contact:
Maria Krinsky
Kickstart for Accelrys
(415) 509-0498
mkrinsky@kickstartconsulting.com
About Eidogen-Sertanty, Inc.
Eidogen-Sertanty is a privately held company that is dedicated to helping scientists discover new medicines with innovative software technology and knowledgebases. To find out more about Eidogen-Sertanty please visit www.eidogen-sertanty.com.
About Accelrys, Inc.
Headquartered in San Diego, California, Accelrys develops scientific business intelligence software and solutions for the life sciences, energy, chemicals, aerospace, and consumer products industries. Customers include many Fortune 500 companies and other commercial entities, as well as academic and government entities. Accelrys has a vast portfolio of computer-aided design modeling and simulation offerings which assist customers in conducting scientific experiments 'in silico' in order to reduce the duration and cost of discovering and developing new drugs and materials. Its scientific business intelligence platform underlies the company's computer-aided design modeling and simulation offerings. The Accelrys platform can be used with both Accelrys and competitive products, as well as with customers' proprietary predictive science products. Its flexibility, ease-of-use and advanced chemical, text and image analysis and reporting capabilities enable customers to mine, aggregate, analyze and report scientific data from disparate sources, thereby better utilizing scientific data within their organizations. For more information about Accelrys, visit http://accelrys.com/.