---
News & Events
---
2010 Press Releases
Eidogen-Sertanty Releases MobileReagents iPhone App
San Diego, CA (October 8, 2010) - Eidogen-Sertanty, Inc., a San Diego-based computational drug discovery solutions provider, announced today the release of MObileREagents (MORE), an iPhone app that provides access to more than 16 million chemical products available from 56 suppliers.
With MORE, you can search reagents by exact or partial name and formula or by drawing a complete or partial structure with your finger tips. You can also limit your search to specific suppliers and bookmark your search results.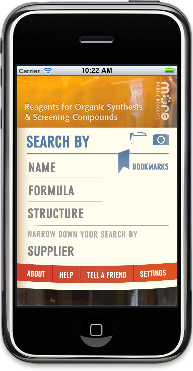 An exciting feature of MORE is the ability to convert a picture of a chemical structure taken from the iPhone camera into a structurally searchable molecule using OSRA (Optical Structure Recognition Application). You can then use these live structures to directly search our database and/or attach to an email together with the OSRA generated molfile and smiles files.
"MORE aims to be a channel that brings scientists and suppliers closer together using innovative technologies like OSRA and a smart user interface," said Dr. Maurizio Bronzetti co-creator of the application. "Nicely complimenting our growing fleet of mobile applications, MobileReagents and its successors have the potential of reaching all laboratory scientists throughout the world," said Dr. Steven Muskal, Eidogen-Sertanty's Chief Executive officer.
MORE joins the suite of Eidogen-Sertanty's iPhone and iPad applications which include iProtein for the iPad, iKinase, iKinasePro, iKinasePro for iOS4 (iPhone), and alternative medicine related apps iYoga108 and iYoga108 for the iPhone.
For more information, please see MORE - "Chemical Reagents at your fingertips".

For more information, please contact:
Steve Muskal
760-651-2885
pr@eidogen-sertanty.com
About Eidogen-Sertanty, Inc.
Eidogen-Sertanty is a privately held company that is dedicated to helping scientists discover new medicines with innovative software technology and knowledgebases. To find out more about Eidogen-Sertanty please visit www.eidogen-sertanty.com.